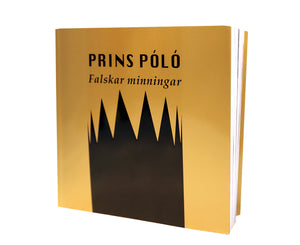 Falskar minningar - Bók
Havari
Regular price 5.900 kr Sale
Á fögrum haustdegi austur á Seyðisfirði röltir ungur maður út í sjoppu í leit að hressingu. Hann á sér draum um að verða tónlistarmaður en vantar listamannsnafn. Hvað er það sem allir Íslendingar elska skilyrðislaust? Hann kaupir sér Prins Póló og fer heim að semja lög.
Tíu árum síðar lítur Prinsinn til baka yfir ferilinn, flettir gömlum dagblöðum og skissubókum og reynir með aðstoð góðra vina að meta stöðuna. Útkoman er litrík og hjartastyrkjandi.
Falskar minningar kom út á vegum Forlagsins haustið 2019. Á sama tíma kom út samnefnd hljómplata sem er aðgengileg á Spotify. Að lesa bókina og hlusta á plötuna er prýðileg skemmtun.
On a sunny autumn day, a young man walkes the streets of Seyðisfjörður, looking for a refreshment. He has a dream of becoming a musician but is missing some kind of a stage name. What do all Icelanders love unconditionally? He buys some Prins Póló chocolate and starts writing songs.
Ten years later, the Prince reflects on his career, looks through old newspapers and sketchbooks and tries to make some sense of it all, with the help of a few good friends. The result is colourful and good for the heart. 
False memories was published by Forlagið in the fall of 2019. An album with the same name was released simultaneously and is available on Spotify. We recommend browsing through the book and listening to the album at the same time.